Let's be realistic- most people wait until there is a crisis to react to the declining health of aging parents, spouses or loved ones. This is a very difficult subject to discuss, so many of us wait to cross that bridge when we come to it.
Throughout "Aging Parents and Options in Care- A Simple Handbook", I have addressed the most common issues and concerns to help caregivers make the best possible choices during difficult times. With little time to sift through hundreds of pages of a book or spend hours researching on the Internet, my concise, easy to use book provides caregivers a resource to help make decisions quickly.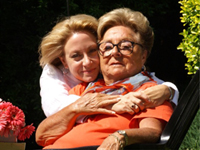 Hillary Abrams and her mother, at home in Marietta, Georgia.
In addition to possibly caring for children or other family members, many of us have jobs and responsibilities inside and outside the home. Just when you think life should be getting simpler, you find yourself being pulled into even more directions. My intention is to help you in the process of choosing the best living arrangements for seniors whether you live close by or in another city or state and provide you with peace of mind.
"Aging Parents and Options in Care- A Simple Handbook" gives you:
An Assessment Checklist to focus on what your aging parents need help with yet still maintaining their independence
A Financial Worksheet on what can be afforded for long term care
Answers on Resistance to Change and Taking Away Car Keys in a positive manner to gain your elderly parent's support
A Facility Evaluation Form to use when visiting facilities and making decisions
Specific Questions to Ask When Visiting a Facility and Where to Find Various Levels in Care
I have included a number of resources available to further help you in the process. For example, prescription savings, security and medical devices, the differences between Medicare(Parts A, B, C, and D) verses Medicaid, and more.
By having "Aging Parents and Options in Care- A Simple Handbook" readily available for use, you can feel relieved and confident in the decision making process and know the best way to care for your loved ones.
I look forward to hearing from you. My thoughts are with you!